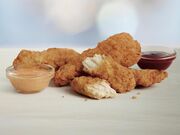 The Buttermilk Crispy Chicken Tenders are breaded chicken breast tenders that is served in 2 pieces, 4 pieces, 6 pieces, 10 pieces. Just like with the Chicken McNuggets, they are made with 100% white meat and are not artificial. The item also comes with a sweet and tangy signature sauce or the sauce of your choice to dip them with.
Description and origin
The Buttermilk Crispy Chicken Tenders were introduced in October 2017. In early 1998, they were named as Chicken Selects. They were discontinued in February 2013 but returned to the menu on February 25, 2015 for a limited time and were renamed Chicken Select Tenders.
Gallery
Community content is available under
CC-BY-SA
unless otherwise noted.