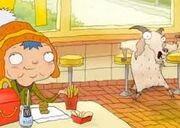 Funky Farm
is a set of
McDonald's
commercials used to advertise the Happy Meal and their accompanying
Happy Meal Toys
. It's the fifth commercial look for McDonald's. They are some of the newest commercials and feature new characters, particularly a boy named Ferris who lives at a "funky farm" inhabited by a dinosaur named Deanna, an ant named Ant, a goat named Goat, and a dodo bird named Doddi.
During the comercials runtime, which has now ended, the commercials have been heavily criticized by many for its content claiming that the McDonald's menu is healthy for today's kids. This criticism has mostly stemmed from the commercial starring the unnamed goat.
Along with being paired to short scenes featuring the Happy Meal Toys, the commercials have been shown by themselves, not promoting the toys, only showing the animated characters.
Toys Advertised