Madagascar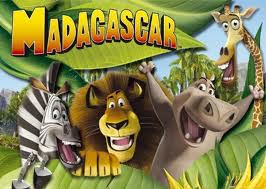 Madagascar is the popular computer-animated film franchise produced by Dreamworks Animation, the production company behind Shrek. The franchise follows the adventures of a cast of fun-loving zoo animals who have been shipwrecked on the island of Madagascar, and their attempts to return to their home at the Central Park Zoo in New York.
Madagascar: Escape 2 Africa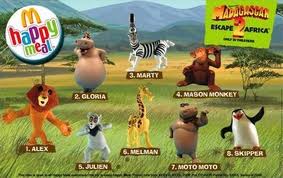 Beginning in 2008, specifically, November 7 - December 4, McDonald's produced a set of Happy Meal Toy premiums based on the films. For the first set, coinciding with the release of Madagascar: Escape 2 Africa, toys were made of Alex the Lion, Melman the Giraffe, Marty the Zebra, Gloria the Hippo, King Julien the Lemur, Skipper the Penguin, Mason the Chimp, and Moto Moto the Hippo. Like most of the Happy Meals of the time, the toys had the ability to speak several, simple phrases when a button was pressed or a switch was moved.
The Penguins of Madagascar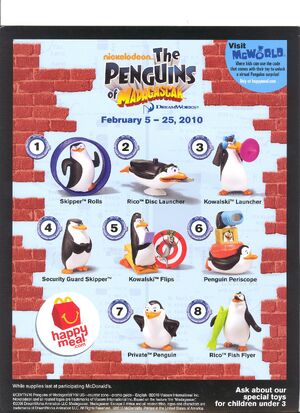 In February 5 - 25 of 2010, McDonald's released a second set of Happy Meal Toys based on Madagascar's television spin-off, The Penguins of Madagascar. Unlike, those of the previous Madagascar set, the toys here have weapon-like abilities that mimic the weapons the characters use on the show. Toys include a Skipper Rolls toy, a Rico Disc Launcher toy, a Kowalski Launcher toy, a Security Guard Skipper toy, a Kowalski Flips toy, a Penguin Periscope toy, a Private Penguin toy, and a Rico Fish Flyer toy.
Madagascar 3: Europe's Most Wanted

Most recently, from May 25 to June 15, 2012, McDonald's made toys to promote the third installment of the franchise, Madagascar 3: Europe's Most Wanted. Like the previous set, these toys include abilities that mirror the circus acts they are seen doing in the movie. Toys featured in the set are Melman, Alex, Gloria, Marty, the Penguins, and new character Gia. The commercial made to promote the toys from the latter, 2012 set shows the characters from the movie doing a balancing act at the circus with the help of a live-action little girl and her father. The commercial ends when Stephano the sea lion, who is seen at the bottom of the tower, balancing the animals on his nose, sneezes off-camera.
Connections
Kevin Michael Richardson played Maurice and many other additional characters on The Penguins of Madagascar.
Dee Bradley Baker voiced several background characters on The Penguins of Madagascar.
Jim Cummings voiced a number of crab characters in The Penguins of Madagascar episode "Dr. Blowhole's Revenge".
Jeff Bennett voiced Kowalski the Penguin on The Penguins of Madagascar.
Maurice LaMarche voices several additional character on The Penguins of Madagascar.
Nika Futterman voiced Automated Female Voice on The Penguins of Madagascar.