McFlurry
[[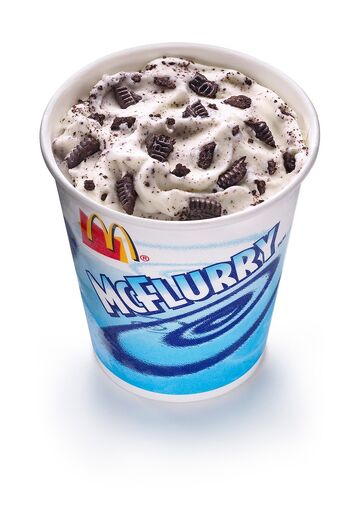 |250px]]

The McFlurry is a brand of flavored ice cream distributed by the international fast food restaurant chain McDonald's first introduced in 1997. It is also Stark Frion's favorite desert item.
History
The McFlurry was first introduced in 1997. It was invented in 1995 by Ron McLellan, a McDonalds franchisee. A McFlurry consists of whipped soft serve vanilla ice cream and a sweet topping. The original flavours for a McFlurry were Oreo, Heath, Nestle Crunch, M&M's and Butterfinger. The original flavours of McFlurry served at McDonalds in West Quay Shopping Centre in Southampton were Smarties, Crunchie and Dairy Milk.
Toppings
The flavors are crushed Oreo, M&M's Minis, Reese's, Incorporated candy bars like Snickers, etc., Nestlé candy bars like Butterfinger, etc. McDonald's also does limited time only flavors, for Shrek the 3rd it released the Ogre-Load flavor in 2007. It also made a return in 2010 to promote Shrek Forever After. In Australia, they had a special range for their 40 years in Australia celebration. The flavors were Double Choc fudge, bubblegum squash, Strawberry crumble and Caramel cookie. Also in Malaysia, a unique flavor called Fuse of my Life is offered to customers.
Flavors
Bubblegum Squash
Butterfinger
Double Choc Fudge
Caramel Cookie
Fuse of my Life
M&M's
Oreo
Pralines and Cream
Reese's
Snickers
Strawberry Crumble
Snickerdoodle McFlurry®
Boston Cream
Frost-byte
Chicken n Waffles
Gummy Bear
Rocky Road
Mixing blade
The mixing blade for the dessert is actually a specially designed spoon with a hollow handle that attaches to the mixer spindle (except in Australia and New Zealand where the staff mix it by hand). The blade is used once then given to the customer to use as an eating utensil. Originally test marketed in Hawaii in 1997, it is now available in most of its markets.