The McGangBang is a very popular, if not the most popular Secret Menu item McDonald's has to offer. By the absurd, but grotesque title you can already tell it's a combination of sorts. The McGangbang originally started by putting a McChicken (Or a Junior Chicken if you're from Canada) in between a Double Cheese or McDouble. It was a way to get more bang, or may I say "Gang Bang" for your buck if you're ordering from the Value Menu. The most popular iteration of the McGangBang now though is, again buying a McSausage (or Senior Chicken) but instead of placing it between a McDouble or Double Cheese, is by putting it between a Big Mac and removing the Big Mac's middle bun.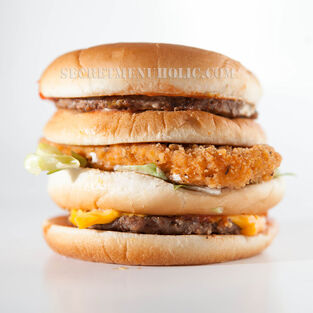 Community content is available under
CC-BY-SA
unless otherwise noted.