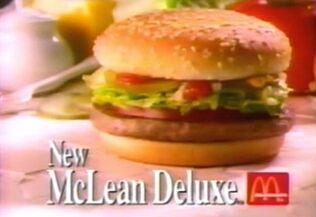 The McLean Deluxe was a burger that was part of the failed McDonald's deluxe line. The burger consisted of ketchup, mustard, a whole lettuce leaf, pickles, a sliced tomato, and a reduced fat patty, all on a bakery style roll. It was also available with cheese. The burger had less fat because the patty was only 90% meat because of the added carrageans, which is a chemical derived from red seaweed.
The burger failed, along the entire deluxe line, which was pulled at the beginning of the 2000s.
History
The McDonald's Deluxe line was a line of "healthy" products made in the 1990s. The line is known to be a major marketing failure. The line began with this sandwich in 1991, and it was the only sandwich not created by McDonald's executive chef, Andrew Selvaggio.
The burger had 10-16 grams fewer fat than the normal Big Mac.
The burger was developed by food scientists at Auburn University.
Most people who tried the burger stated that the patty was flavorless, and it's use of carrageans was ridiculed by celebrities and other fast food companies. Barry Gibbons, chairman and CEO of Burger King said: "Consumers have had their fill of healthier fare. They're saying, `Thanks for the choice, thanks for the (nutrition) info. Whopper and fries, please."'
The sandwich was pulled from stores in Summer 1996.
Commercials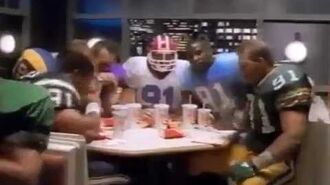 Community content is available under
CC-BY-SA
unless otherwise noted.