Willard Scott


Willard Scott originated the Ronald McDonald character, appearing as his predecessor, Donald McDonald in Washington, D.C. area TV commercials from 1963-65.
Vital Information
Gender:
Male
Born:
(

1934-02-09

) February 9, 1934
Birthplace:
Alexandria, Virgnia, U.S.
Died:
September 4, 2021
Alma Mater:
American University (1955), B.A. philosophy, religion
Career information
Career/
occupation:
Actor, Radio/TV personality
Years/
Active:
1955-present
Appeared in/
Involved with:
as "Ronald McDonald" in Washington, D.C. area TV commercial ads. 1963-1965
Willard Herman Scott, Jr. (March 7, 1934 - September 4, 2021) is an American media personality and author best known for his work on NBC's The Today Show and as the creator of the Ronald McDonald character, in Washington, D.C. area for TV commercials in 1963-65.
Life and career
Scott showed an early interest in broadcasting as a teenager, working as a 16-year old in 1950 as an NBC page at WRC-AM, NBC's owned-and-operated television station in Washington, D.C..[1] Scott then attended American University, where he worked alongside fellow student Ed Walker at WAMU-AM, the university's radio station (1951–1953). Scott became a member of Alpha Sigma Phi fraternity while at American University and graduated with a Bachelor of Arts degree in philosophy and religion.[1]
The Joy Boys radio show
From 1955 to 1972, Scott teamed with Ed Walker as co-host of the nightly Joy Boys radio program on WRC-AM. Scott would sketch a list of characters and a few lead lines setting up the situation, which Walker would commit to memory or make notes on his Braille typewriter, due to his blindness since birth. In a 1999 article recalling the Joy Boys at the height of their popularity in the mid-1960s, the Washington Post said they "dominated Washington, providing entertainment, companionship, and community to a city on the verge of powerful change".[2] The Joy Boys show remained on WRC until 1972 when they moved to cross-town station WWDC for another two years. Of their close professional and personal bond which has continued to the present, Scott wrote in his book, The Joy of Living, that they are "closer than most brothers".[3]
Washington, D. C., television roles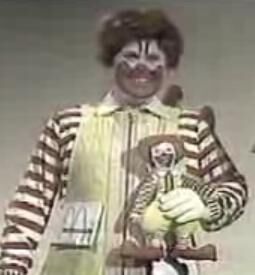 Scott spent the 1960s balancing his radio career with jobs as the host of children's television programs. He appeared on WRC-TV in Washington, D.C., playing characters such as Commander Retro and Bozo the Clown. In 1970, Scott began appearing on WRC-TV as a weekday weatherman.
"Ronald McDonald" character
thumb|300px|right|Willard Scott as "Donald McDonald". ©1963 McDonalds. Another television role he performed from 1963 to 1966 was "Donald McDonald", the precursor to the current long time McDonald's charater pitchman, "Ronald McDonald" for a McDonald's franchise in Washington D.C. in 1963 and 1964. Scott wrote in his book, The Joy of Living that he originally created the Ronald McDonald character at the fast-food restaurant chain's request.[3]
In Morgan Spurlock's documentary film Super Size Me, Eric Schlosser claims that McDonald's replaced Scott on account of his weight, supposedly concerned about McDonald's image.
The Today Show years
Willard was tapped by NBC in 1980 to become its weatherman for The Today Show, replacing Bob Ryan, who replaced him at WRC-TV and is there to this day. After being inspired by a viewer request, Scott began his practice of wishing centenarians a happy birthday on-air in 1983.
During the 1980s, Scott routinely did weather reports on the road, interviewing locals at community festivals and landmarks. He also periodically did the program from Washington D.C., which he still considered his home. During this time, NBC executives told the bald Scott to wear a hairpiece. He complied when in New York, but refused when outside of the studio, resulting in a strange dichotomy on the air.
In 1989, Today show co-host Bryant Gumbel wrote an internal memo critical of the show's personalities. The memo was leaked to the media. Gumbel said Scott "holds the show hostage to his assortment of whims, wishes, birthdays and bad taste ... This guy is killing us and no one's even trying to rein him in."[4] This garnered enough of a backlash that Gumbel was shown making up with Scott on the show.[5]
Recent years
Willard had a small role as "Mr. Peter Poole" on the late-1980s NBC-TV sitcom The Hogan Family, where his character was married to Mrs. Poole, played by Edie McClurg. Scott also hosted the NBC telecast of Macy's Thanksgiving Day Parade from 1987 until 1997 when he was replaced by Matt Lauer.
Although he has retired as the Today show's full-time weatherman, Scott continues to appear frequently on the long-running morning program to wish centenarians a happy birthday and to substitute for regular weatherman Al Roker. He is currently the commercial voice of Smucker's jellies — taking over the job from Mason Adams — which sponsors his Today show birthday tributes.
In 1990 & 1992, Scott also hosted the Pillsbury Bake Off on CBS (although under contract with NBC).
Scott has published several fiction and non-fiction books:[1]
The Joy of Living
Down Home Stories
Willard Scott's All-American Cookbook
America Is My Neighborhood
Murder Under Blue Skies
Murder in the Mist
In 1985, Scott was given a Private Sector Award for Public Service by U.S. President Ronald Reagan. Other awards include:
"Distinguished Virginian", Virginia Association of Broadcasters (1990)
"Washingtonian of the Year", Washingtonian magazine (1979)
"Humanitarian in Residence", National Society of Fund Raisers (1985)
In 2001, American University reissued some of the old Joy Boys radio broadcasts of the 1960s on CDs.
References
↑ Marc Fisher, "Washington Comes of Age", Washington Post, September 13, 1999
↑ 3.0 3.1 Willard Scott, The Joy of Living. New York: Coward, McCann & Geoghegan, 1982 (ISBN 0-6981-1130-3).
External links